Just a little hint here:
One of my pet hates about W10 (and W7) Windows Explorer [renamed/rewritten as File Explorer in Vista+] requires clicking upon folder to reveal contents
and so requires a click even when traversing folders with keyboard.
I've only just discovered that Open Shell Menu (fork of Classic Shell) has separate settings for the file explorer,
is the torquoise shell icon in uppen RHS corner.
Can change "Basic Settings", "Auto Navigate to the selected folder" and set to Always, and no longer has the brain dead W7/W10 behaviour.
[EDIT: Might also want to enable "Disable Breadcrumbs" and enable "Show Status Bar" if not set as such]
Anyways, I guess many already know this, but if I totally missed those settings, I presume that it is always possible that others have too.
Above one of the main reasons I always disliked Vista/W7/W10 file explorer,
I've used Classic Shell/Open Shell Menu since 1st installing Vista, and cannot believe that I've totally missed this bunch of settings until now.
EDIT: Not this link [latest is Beta], see link at bottom of post.
https://open-shell.github.io/Open-Shell-Menu/
Enjoy, I will.
Shell icon @ top RHS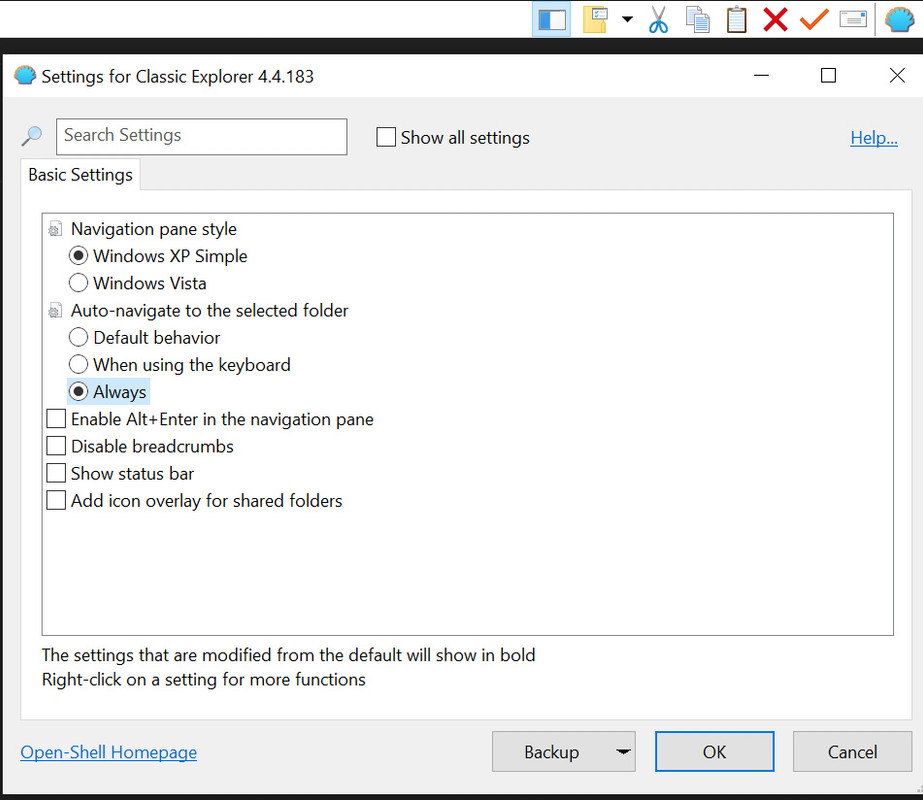 It went a bit weird for me after change and until after reboot.
EDIT: Latest STABLE is
OpenShellSetup_4_4_170.exe
(I was using a recent beta by mistake)
Latest STABLE:-
https://github.com/Open-Shell/Open-S...s/tag/v4.4.170
EDIT: To see that Shell icon, you have to tick Menu/View/Options/Classic Explorer Bar.
[
Thats why I've never noticed it before, musta switched it on by accident
- I guess there is something to be said for reading the docs]