Quote:
Originally Posted by
Buck
I recently uploaded the data for
Ghost In The Shell
(Blu/4KUHD) - 2020 - US edition. For the Blu-ray, I received this
DVDFab
error when launching the movie: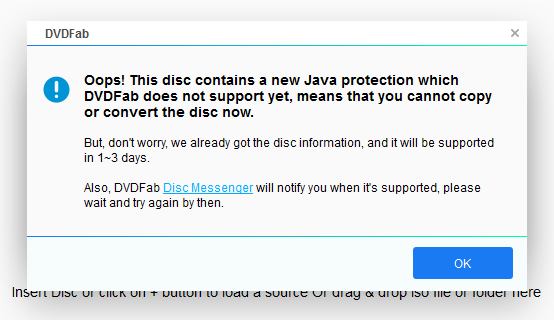 After that notice,
DVDFab
continues to the video. I can jump to and see chapters, but with lots and lots of drive seeking. So I cancel that. And I have been checking back every several days, but without seeing any improvement (I hate those month-long 3-days!). ...
Little did I know! So here's an update: it's been 1/2 YEAR, several
DVDFab
updates (some mention updating
JAVA
protection
, some not), and lots of my daily checking the Blu-ray disc, only to get no fix yet -- but still the exact-same message, to wait "3 days" for the problem to be fixed. It's good to know they're hard on the job to get it done ... in 3 days ...